About me
I am originally from Australia with a teaching background and I have been involved with homeopathy since the early 1980s - as a patient, a student and post-graduate student, a teacher, author and seller of homeopathic software. I have been insured with the Society of Homeopaths since 1995, Registered since 1997, and adhere to their strict Code of Ethics. I currently divide my time between seeing patients at my homeopathic practice, supervising homeopaths, and for Synergyhomeopathic. When I lived in the UK, I immensely enjoyed working at Helios Homeopathic Pharmacy 1994-2019; organising seminars with Pinnacle Homeopathy courses, and teaching homeopathy. In 2012, I achieved an MSc in Homeopathy from the University of Central Lancashire.
Personal experience
I suffered with recurrent tonsillitis since childhood and was persuaded in 1982 to consult a homeopath. Despite my intial scepticism, I have not suffered tonsillitis since.
Professional Training and Continual Professional Development
My training as a teacher, a keen interest in people and a curiosity to find out "why does it work" led me to an introductory course in homeopathy. This was followed by a 4 year professional training course and gaining a Licentiate from the London College of Classical Homeopathy (LCCH) in 1995. Post graduate studies include completing Jeremy Sherr's Dynamis School of Advance Homeopathy two year course (PCH, 1996) and a three year diploma with Dr Massimo Mangialavori at the Koine School in Italy (DK, 2004). I achieved a Master of Science in Homeopathy from the University of Central Lancashire (MSc 2012) and continue to attend many seminars and webinars in order to keep up to date with the latest developments in homeopathy worldwide.
Being a Registered member of the Society of Homeopaths since 1997 (RSHom), I adhere to their strict code of ethics, and hold professional insurance, having passed the rigorous academic tests and clinical requirements before being admitted to the register.
To expand my knowledge of homeopathic techniques, I have attended homeopathy conferences and seminars throughout Britain, Europe, India, America and Australasia and have learned from some of the finest teachers of homeopathy in the world. Top of page
Teaching and Australian Representative for Synergy Homeopathic

I have taught homeopathic philosophy, Materia Medica and the Sensation Method to students and homeopaths in the UK, New Zealand, Croatia and Japan. More information. This has been supported by my work with Synergy Homeopathic, which produces the professional homeopathic software packages MacRepertory and ReferenceWorks and latterly SHS. I was the Representive for the UK from 2000 until 2018, and following my return to Australia, became the Representative from 2019.
Author
I am co-author with Ilana Dannheisser of "Illustrated Guide to Homeopathy" (1998) and "Illustrated Elements of Homeopathy" (2002)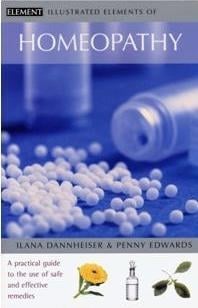 Illustrated Elements of Homeopathy
By Ilana Dannheisser and Penny Edwards
Element Books Limited, 2002, pp144, £8.99
Reviewed by Vicky Burley*
There are so very many home prescribing homeopathy books available today that selecting the right one for you can be an overwhelming and baffling task. Well here's a hint: this book is a really great place to start.
Ilana and Penny present a readable, easy to understand introduction to the history and principles of homeopathy focussed on what you need to know in order to prescribe effectively in the home environment.
The Materia medica section is thorough and selection of the right remedy is made easy with the aid of colourful illustrations and 'Confirmation' and 'Comparison' boxes.
But it doesn't stop there. Selecting an indicated remedy from a long list of homeopathic remedy pictures can be time consuming, confusing and even discouraging. Ilana and Penny have moved one step closer to solving this problem by providing an easy to use Repertory – an index of symptoms (rubrics) that guides you towards possibly indicated remedies. This is accompanied by comprehensive, but easy to follow instructions of how to locate and select important symptoms and how to translate these into the rubrics used in the Repertory.
Case studies and 'What to do if…' boxes support you when prescribing remedies at home.
This is an excellent book, of a good size with interesting illustrations. I will be recommending this to students on my 'Introduction to Homeopathy' courses.
*Vicky Burley was editor of the Picture of Health, produced by the Homeopathic Action Trust, from 2003 – 2004.
NB: Both first and second editions of this book are now out of print, although they may be available from Amazon.